I'm happy to announce today the release of my new book Me Stuff!
When I began this site three years ago, I never thought I would be releasing a book like this or that even people would be interested in my little blog and ramblings. And yet, here we are and I can't wait for you to check out this fun collection. I'm really proud of it and it has a little bit of everything, containing 40 popular entries. A little humor, a little romance, a little song and dance.
It is exclusively available via Amazon.com. The print copy is only $9.99 and the eBook version is just $1.99! You can find Me Stuff here.
To help celebrate the release of Me Stuff, two lucky readers on GoodReads.com will win an autographed copy of the book. The sweepstakes is through July 15. You can enter by clicking below.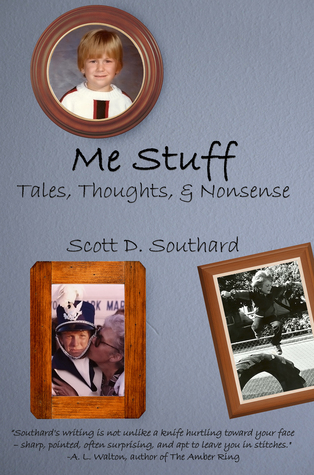 Good luck to all of the entries!
Here is the description of the book from the back cover:
Thieves, psychics, evil poets, mad men, car companies, literary greats, tornadoes, models, vasectomies, bankers, children, Satanists, princesses, truckers, comics, rock stars, strippers, superheroes…

Me Stuff is a collection of some of the most popular blogposts from Scott Southard's writing site "The Musings & Artful Blunders of Scott D. Southard." Made for both the fan and the newbie, Me Stuff has something for everyone… Well, except for those who don't like entertaining stories. This book can't help those people.
If you have enjoyed this site in the past, I hope you will grab a copy of my new book  (here) and maybe even tell a friend. And, as always, thank you for reading. This book wouldn't exist if it wasn't for the support of readers like you. Thank you!