On July 15, two readers will win an autographed copy of my new book, ME STUFF. Have you signed up yet? What are you waiting for?  Click on the link below; it is just calling to you, man!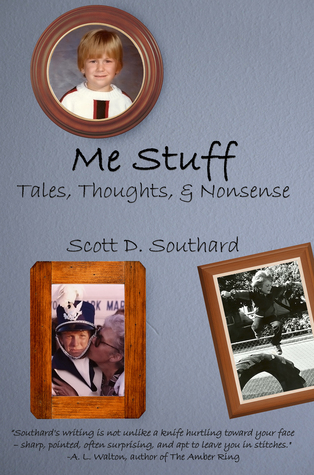 ME STUFF is a collection of 40 personal and fun posts from this site. Here is the description from the back cover:
Thieves, psychics, evil poets, mad men, car companies, literary greats, tornadoes, models, vasectomies, bankers, children, Satanists, princesses, truckers, comics, rock stars, strippers, superheroes…

Me Stuff is a collection of some of the most popular blogposts from Scott Southard's writing site "The Musings & Artful Blunders of Scott D. Southard." Made for both the fan and the newbie, Me Stuff has something for everyone… Well, except for those who don't like entertaining stories. This book can't help those people.
Since I created it for my followers on this site, I made it extra-affordable, only $1.99 as an eBook (here) and $8.99 in print (here).  If you want to know more first (kick the literary tires), I shared an excerpt from the book recently, this link. It is called "Poisoning the Genius." It's about that awkward moment we all have experienced… when you poison a professor who is also a literary legend.  (Oh wait, was that just me?)
Good luck to all of the entries!